First, browse the many pages of information available on this web site. If you need more information, the fastest way to become an expert on swaging is to read the Corbin Handbook of Bullet Swaging or order the Handbook on CD-ROM.

Corbin publishes seven other books about bullet swaging, and offers the Bullet Swaging Library of the most popular swaging books, discounted heavily compared to buying them one at a time. If you want a comprehensive study of bullet making, order catalog number BP-7. Your VISA/MC is welcome for on-line purchases, or you can request COD shipment (domestic orders only). Click the padlock symbol on the navigation box (top of the page) to reach the secure shopping cart.

If you just want a printed price list, new products and the same basic information presented on line but in a condensed, printed form, send $1 for the Swaging Info Pack. You get a color brochure that folds out to display the major Corbin products, a full-line price list, and information about selecting the right kind of press and dies for your particular needs.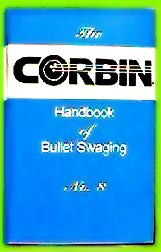 Select image for info on Corbin Handbook